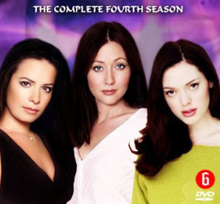 The fourth season consists of 22 episodes. In this season, there are changes.
The Charmed Ones, modern-day urban witches Prue (Shannen Doherty), Piper (Holly Marie Combs) and Paige (Rose McGowan), move into Season Four with deeper, darker and more deftly crafted stories. As Prue and Piper struggle with the loss of their younger sister, they discover the existence of half-sister Paige Matthews. Possessing the power to see the future of her friend/sister Phoebe, Paige joins the Halliwell sisters to recreate the magical triad that protects the innocent and vanquishes evil. But all may be lost as a mysterious force of magic haunts the sisters, the Source continues to attack them, and villains from the past return with vengeance. The sisters have to tighten their bond and grow in order to survive this season.
With intriguing characters, amazing special effects and the perfect brew of suspense, drama and humor, each exciting episode in this fascinating supernatural series casts a gripping spell.
Main Cast
Edit
Recurring cast
Edit
Jennifer Rhodes as Penny Halliwell
Finola Hughes as Patty Halliwell
James Read as Victor Bennett
Chad Willet as Justin Harper
Michael Bailey Smith as The Source
Debbi Morgan as The Seer
Krista Allen as The Oracle
Jennifer Tung as Klea
David Reivers as Bob Cowan
Jesse Woodrow as Glen Belland
Becky Wahlstrom as Lila Brown
Notes and Trivia
Edit
Rose McGowan joins the main cast as Paige Matthews, Prue and Piper's half-sister, after Alyssa Milano's departure from the series.
The opening credits has gotten a minor make-over due to the departure of Alyssa Milano from the series. Shannen Doherty has stayed first, continued with Holly Marie Combs in second, followed by Rose McGowan.
This season introduces a few new characters to the show:

The Seer: The Source's aide, portrayed by Debbi Morgan.
The Oracle: The Source's former aide, portrayed by Krista Allen.
Glen Belland: A good friend/potential boyfriend of Paige Matthews, portrayed by Jesse Woodrow.
Lila Brown: Another good friend of Paige Matthews, portrayed by Becky Wahlstrom
Bob Cowan: Paige's boss at South Bay Social Services, portrayed by David Reivers.
Episode List
Edit
| | | | |
| --- | --- | --- | --- |
| Image | Title | Original Airdate | Episode |
| | Something Wicca This Way Comes...Again | July 17, 2016 | 4.01 |
| | Rewitched | August 9, 2016 | 4.02 |
| | The Fury of the Witches | September 12, 2016 | 4.03 |
| | Battle of the Minotaur Kings | September 19, 2016 | 4.04 |
| | The Power of Seven | September 26, 2016 | 4.05 |
| | Planes of Existence | October 3, 2016 | 4.06 |
| | The Kat's Out of the Bag | October 10, 2016 | 4.07 |
| | The Hunt For the Whitelighters | December 13, 2016 | 4.08 |
| | The Witch On the Milk Carton | December 25, 2016 | 4.09 |
| | Reality Switch | February 11, 2016 | 4.10 |
| | Charmed and Dangerous | September 10, 2016 | 4.11 |
| | Patience is A Virtue | September 17, 2016 | 4.12 |
| | Where There's Smoke, There's A Fire-Starter | September 24, 2016 | 4.13 |
| | Kidnap and Rescue | October 1, 2016 | 4.14 |
| | Bite Me | October 8, 2016 | 4.15 |
| | What Destiny May Hold | | |
| | The Evil Belthazor | | |